My former nursery and container designs have been featured in local and national media.
Soon in the Portland Metro region and Pacific Northwest!
Featured on The Martha Stewart Show

Loomis Creek Nursery's 7th year in business brought an appearance on the Martha show.
Loomis Creek in The New York Times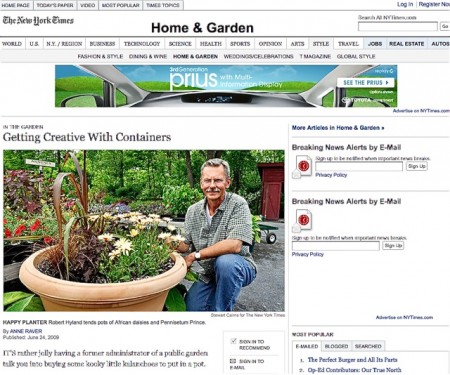 Some of you have asked how we landed this story. Honestly, it was not serendipity, but a year in the making. Anne stopped by in June 2008 on her way to visit and interview Margaret Roach. Anne seemed inspired by our container plantings, the ambience of our country nursery, and my life beyond public gardens – believe me that didn't go unnoticed. First impressions are so very important. I sensed a newspaper story in the making and continued a dialogue with Anne.
Anne Raver's piece on Loomis appeared at the end of June 2009; if you missed "Getting Creative With Containers," you can read it online.
As Andrew and I were planning the 2009 nursery season, we intentionally chose to capitalize on our container-gardening skills. I agreed to team up with Margaret to design and install the Contained Exuberance exhibit at Berkshire Botanical Garden in Stockbridge, MA (show is on through frost). We went full-tilt with container ensembles at the nursery and also out in the community. You can see Loomis-planted pots this season at regional businesses and cultural institutions, such as Spencertown Academy Arts Center, Pro Printers, the Claverack Post Office, and the "Best in Show" painted dog art project in Hudson, NY, sponsored by the Columbia County Chamber of Commerce. Look for our dog (by Loomis Creek employee Heather Grimes) perched in a container ensemble in front of Gary DiMauro Real Estate, 423 Warren Street, Hudson.
All of this effort helped with my "container" story pitch to Anne. We're delighted with the outcome, to say the least. We're also so appreciative of all of your support in this very special, very lucky year. Be sure to keep in touch by subscribing to our "Plant of the Week" email newsletter (just add your email address to the little sign-up box at the top of the next column), or just come in and say hello.